Una grande notizia per gli utenti dei nuovi sistemi PlayStation 4 e Xbox One, le collezioni Atari Flashback Classics Vol 1 e 2 saranno pubblicati anche in versione PAL. Dopo l'enorme successo ottenuto dalle corrispettive edizioni statunitensi in formato NTSC, l'editore    ha infatti deciso di importare nel nostro mercato le imperdibili raccolte che, ricordiamo, hanno ben cinquanta titoli a volume.
Andy Pearson, il capo del settore Marketing (Hardware e Tecnologa) del distributore ufficiale PQube è personalmente entusiasta degli ottimi risultati ottenuti da Atari Flashback Classics Vol 1 e 2 ed ha dichiarato alla stampa:
"With retro gaming increasing in popularity, it's great to see more classics get a new lease of life on two of today's best-selling consoles. Both games offer fantastic value for money and will help bring popular Atari 2600 video games like Asteroids to a new generation of gamers."
Se siete possessori anche delle console attuali e fan di vecchia data di Atari, fate vostre Atari Flashback Classics Vol 1 e 2.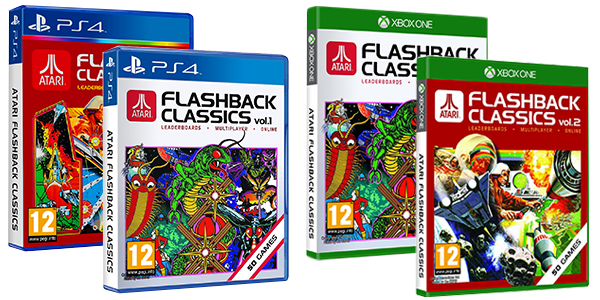 Ecco nel dettaglio i titoli contenuti nelle due raccolte:
Atari Flashback Classics Volume 1
Adventure
Asgo Concentration
Asteroids
Asteroids (Arcade)
Asteroids Deluxe (Arcade)
Basic Math Blackjack
Breakout
Casino
Championship Soccer
Checkers
Chess
Code Breaker
Crystal Castles
Crystal Castles (Arcade)
Demons to Diamonds
Double Dunk
Flag Capture
Golf
Gravitar
Gravitar (Arcade)
Hangman
Haunted House
Major Havoc (Arcade)
Maze Craze
Missile Command
Missile Command (Arcade)
Night Driver
Off the Wall
Outlaw, Race
Red Baron (Arcade)
Return to Haunted House
RS Baseball
RS Basketball
RS Tennis
Secret Quest
Sentinel
Sky Diver
Spacewar
Sprint (Arcade)
Starship
Stellar Track
Street Racer
Sub Commander
Super Breakout
Super Breakout (Arcade)
Surround
V Pinball
Video Cube
Atari Flashback Classics Volume 2
3D Tic Tac Tow
Air Sea Battle
Backgammon
Basketball
Black Widow (Arcade)
Bowling
Brain Games
Canyon Bomber
Centipede
Centipede (Arcade)
Circus Atari
Combat
Combat 2
Desert Falcon
Dodge-em
Fatal Run
Football
Homerun
Human Cannonball
Liberator (Arcade)
Lunar Lander (Arcade)
Millipede
Millipede (Arcade)
Minigolf
Pong (Arcade)
Quadrun
Radar Lock
RS Volleyball
RS Boxing
RS Football
RS Soccer
Save Mary
Slot Machine
Slot Racers
Space Duel (Arcade)
Sprint Master
Star Raiders
Steeplechase
Stunt Cycle
Super Baseball
Super Football
Sword Quest EW
Sword Quest FW
Sword Quest WW
Tempest
Tempest (Arcade)
Video Olympics
Warlords
Warlords (Arcade)
Yars' Revenge